By the Editors of KateChopin.org
Three of Kate Chopin's great-granddaughters and three Chopin scholars discussed Chopin's legacy in Washington, DC, in May, 2014. 
Between 1871 and 1879 Kate Chopin gave birth to five sons and a daughter–in order of birth, Jean Baptiste, Oscar Charles, George Francis (Doc), Frederick, Felix Andrew, and Lélia (baptized Marie Laïza).
Today Kate Chopin's descendants live in many parts of the United States. Chopin's grandson David, the son of George Chopin (Doc), lived in St. Louis. Her great-granddaughter Susie Chopin also lives in the city. Great-granddaughter Annette Chopin Lare lives in Pennsylvania, and Gerri Chopin Wendel, another great-granddaughter, lives in California. Chopin's other descendants live around the country. You can see photos of Susie, Annette, and Gerri—and you can read what they discussed in Washington. 
Susie Chopin, one of Kate Chopin's great-granddaughters, interviewed about the burning of Chopin's home in Cloutierville, Louisiana.
The interview appears in the November 19, 2013, issue of The Advocate, a Baton Rouge, Louisiana, newspaper. Susie explains that she never visited the house before it burned. "Like so much lost to history, in the material sense, it's very sad," she says. "But thank goodness for the history of memories we have."
David Chopin, Kate Chopin's last surviving grandchild, dies in St. Louis.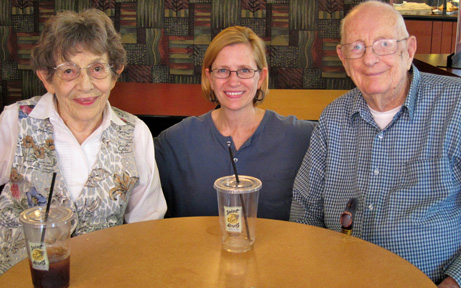 We received this message from David's daughter, Susie Chopin, on October 4, 2011:
"Our dad, David Chopin, died very peacefully in his sleep on October 2 at the age of 92. He was the last living grandchild of Kate and Oscar Chopin. His parents are George (Doc) Chopin and Frances Gleeson. We're so very grateful to have had this beautiful man in our lives. He gave us life—you can't get more beautiful than that. On October 6, he'll be buried in Calvary Cemetery here in St. Louis next to his parents and siblings and mere feet from our beloved Kate. For those of you who met mom and dad, please know how much they loved seeing you and sharing stories about Kate and our family. It meant the world to them. Thank you all for continuing to keep Kate with us through your teachings and research and simple love of her stories. My dad never knew Kate, so when he died I kissed him and wished him a wonderful reunion. With much appreciation from our entire family. Susie Chopin"
Pictured above in August, 2010, is Kate Chopin's grandson, David–the son of George Francis (Doc). Also pictured is Dave's wife Ann and their daughter Susie.
Heather Ostman, President of the Kate Chopin International Society, sent this message on October 4, 2011:
"On behalf of the members of the Kate Chopin International Society may I offer our condolences to Susie and everyone in David Chopin's family. Through his 1999 interview for the PBS television program, Kate Chopin: A Re-Awakening, David helped make Kate Chopin's stories famous around the world. We are very sorry to hear of his death, and we extend our sympathy to his family and friends."
You can read a 1999 PBS interview with David Chopin on the Kate Chopin: A Re-Awakening site.
Susie Chopin sent this comment on October 18, 2011:
"We took mom to dad's grave this past weekend, took up some pumpkins to leave, because dad loves holidays. I was looking at Kate's grave and seem to forget the impact she's had on people and the literary world. When I see her grave, I think, 'I wish I had known you, my great grandmother.' It's so nice up there."
Susie in spring of 2012 sent us this photo and note: "Was up at Calvary visiting with dad, and my daughter snapped a picture of me sitting on Kate Chopin's tombstone and my mother sitting on Kate Chopin's tombstone (Kate's daughter-in-law). I love that there are two of her up there. I look angry, but that's me concentrating on what mother was saying." Susie Chopin was interviewed about the Kate Chopin grave for an October 2012 article in the Atlantic.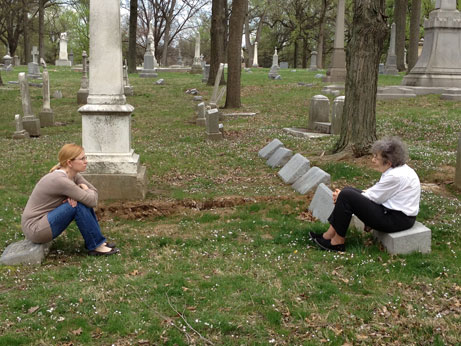 Gerri Chopin Wendel recently sent us this message about her visits to high school classrooms in California to discuss Kate Chopin and her work:
"At La Reina High School, an all girls' Catholic high school similar to the one Kate attended, I speak to the honors and CP classes after they have read "The Story of an Hour." These are 10th grade students.
I put on the board a simple family tree starting with Eliza Farris and Thomas O'Flaherty and follow this down to our family from George Chopin (Doc). There are well over 100 descendants just from this one son of Kate's so it is easy to imagine how many descendants there are out there. (I think it would be fascinating to start some sort of Kate Chopin descendants' blog or Facebook page to connect all of us–even though I am not on Facebook!)
"I spend about 45 minutes telling the students about Kate's life–the dominance of women in her life, the rich education she received, the extraordinary number of people she buried in her life, the life she lived with Oscar, and her literary career. Because this group does not read The Awakening I only touch on it briefly–but I do share with them the influence Edgar Degas may have had on Kate's life and the how the stories, and names, that Degas shares with Kate appear in The Awakening.
"The students are fascinated by the parallel between 'The Story of an Hour' (the sense of freedom Mrs. Mallard feels after the death of her husband in a train crash) and the freedom that Kate's own mother may have experienced after the death of Thomas O'Flaherty in a train wreck. (Kate was only five years old and at boarding school at the time of his death and his passing gave Eliza the freedom to bring Kate back home and into a house dominated by women.)
"In this class the teacher asks the students to write an alternative ending to 'The Story of an Hour.' I am always amazed at the creativity in these short pieces. The students are always eager to discuss the feelings Mrs. Mallard felt throughout this hour and offer all sorts of suggestions as to how she can find another way to kill her husband in order to gain this freedom back again!
"I also speak to the AP classes at our local public high school. These are 11th graders and they have read The Awakening. I go through the same 45 minute lecture about Kate's life and they are always eager to talk about what they did and did not like about the book. They debate whether or not Edna was selfish in her role as a mother and the decision she makes to take her life at the end. The male students often side with Edna's husband and defend his hard work ethic and criticize Edna's indifference to both her husband and children. The female students are always more sympathetic to Edna's situation and we often get into discussions about present-day expectations in marriage and child rearing.
"The students frequently ask if The Awakening is autobiographical. I personally don't feel it is autobiographical, and I truly believe Oscar and Kate had a loving and respectful marriage. There is no question, however, that the life Kate Chopin led observing female strength and independence from a very early age, along with the diverse cultures she observed in her many travels and the various places she lived, gave her a rich repertoire from which to draw as she put pen to paper in her writing of short stories and novels."
The Kate Chopin House Fire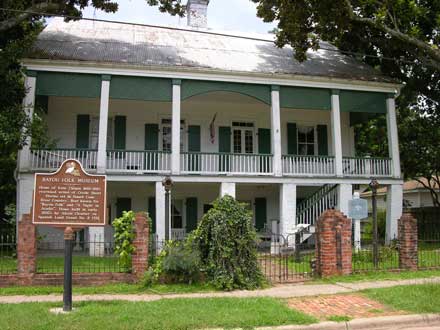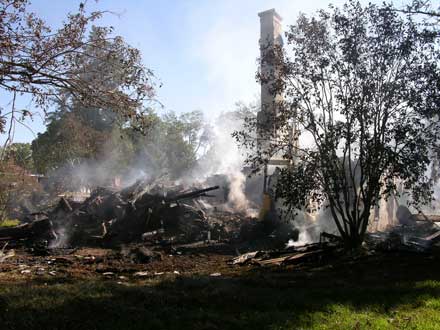 Photos before and after the fire by Jean Carter, courtesy Cane River National Heritage Area
We received the following message from Susie Chopin and Annette Chopin Lare shortly after the Chopin house (the Bayou Folk Museum) in Cloutierville, Louisiana, burned to the ground early on October 1, 2008:
While our family has never placed great emphasis on material things, there was a collective gasp and profound sadness when it was learned that Kate's home in Cloutierville, Louisiana, had burned. The Kate Chopin House in Cloutierville was our grandfather's boyhood home. For those of us who were fortunate enough to visit The Bayou Folk Museum, walking through the rooms where Kate and Oscar lived with their children and seeing the bayou country that inspired so much of Kate's best work, was an inspiring and unforgettable experience. We understand a first edition of Bayou Folk has been spared and for this we are forever grateful to the person whose hands picked it up.
We speak for our entire family in expressing our thanks to those who cared for the Bayou Folk Museum over the years and to all of you who keep her words and spirit alive on a daily basis through wonderful websites such as this one and the Kate Chopin Society of North America in Kate's hometown of St. Louis. We're also grateful to those who continue to research and teach her writings in universities all over America and abroad. You do Kate and our family a great honor.
We're fortunate to have one of Kate's remaining homes in St. Louis. While the Cloutierville house can never be replaced, it is our hope that one day her final home in St. Louis can be restored with the same love and care as the Bayou Folk Museum.
Very sincerely,
Susie Chopin
Great Granddaughter
St. Louis, Missouri
Annette Chopin Lare
Great Granddaughter
Bethlehem, Pennsylvania