By the Editors of KateChopin.org
Three of Kate Chopin's great-granddaughters and three Chopin scholars discussed Chopin's legacy before an audience at the American Literature Association Conference in Washington, DC, in May, 2014.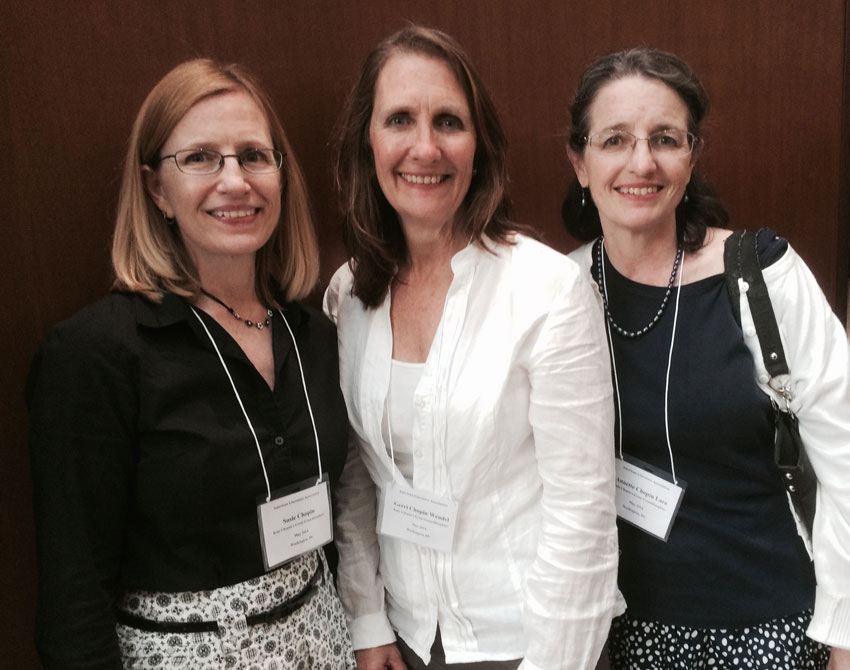 (From the left)  Susie Chopin, Gerri Chopin Wendel, and Annette Chopin Lare joined Chopin scholars Thomas Bonner, Jr. (Xavier University of Louisiana), Barbara C. Ewell (Loyola University of New Orleans), and Emily Toth (Louisiana State University) at a special session celebrating the tenth anniversary of the founding of the Kate Chopin International Society.
You can read a PDF transcript of everything said at the session.
Excerpts for each person's remarks:
Gerri Chopin Wendel:
I don't recall Kate Chopin being mentioned very often while I was growing up. We knew that there was this writer in the family, and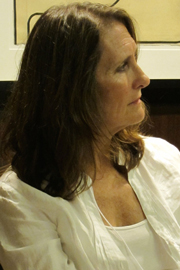 there certainly was a love of books in our home, particularly by my dad, David Chopin, grandson of Kate. I was not the same lover of books. I was a tomboy and spent most of my spare time as a child outside playing and as a teen camping and backpacking.
My first real introduction to Kate Chopin came when I was in college. I was a senior and I wasn't an English major, but I needed to take one more English elective before graduation. I must admit to you English professors that this is how I did it: I scanned the list of courses, closed my eyes, and randomly picked a course called "Women in Literature." It was not until the first day of class and reading the syllabus that I discovered we would be reading several short stories and one novel, The Awakening. The teacher was a doctoral student writing her dissertation on Kate Chopin.
I do not recall her name. But my guess is she still probably recalls my name! You can imagine her shock and thrill when she read down the roster and got to my name. She said, "Marie" (my first name), looked up and slowly scanned the class, then said, "Chopin?" When I raised my hand I remember her slowly shaking her head and then kind of gasping, "No!" And when I told her that I was the great–granddaughter of Kate Chopin, I thought she was going to fall out of her chair. Gerri Chopin Wendel's comments begin on the opening page of the PDF.
Susie Chopin:
It wasn't until I was in my 30's that I truly began my relationship with Kate, and that came to be because it was a struggling decade for me and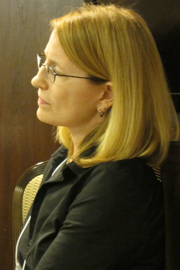 I needed guidance. Having come from very strong women on both sides of our family, not only on my father's side, I often sent up my prayers to God, and the universe, and to these brave females in my family who gave me some of their strength. I thought if they could get through their struggles, then surely I could get through mine. It was also at this time that, while I didn't reread The Awakening, I strongly related to Edna and I drew upon her strength as well, and through this felt a very special connection with Kate.
Now in my 50's I've re-read The Awakening and most of Kate's complete works and loved, by the way, At Fault, which I heard for years was a bear to get through and avoided it like the plague! In fact if I had to choose my favorite, which gratefully I don't, I would pick At Fault with its more raw appeal for me. While I've always enjoyed Kate's writings and am very proud of her, admittedly I think I've never given her the credit she deserves and sometimes have felt as her great-granddaughter that her profession overshadows the person. But I also know and understand and am truly grateful that her writings and she herself have brought happiness and inspiration to so many people. Susie Chopin's comments begin on page 4 of the PDF.
Annette Chopin Lare:
While I certainly lauded the feminist agenda of equality and the rejection of women as objects, I felt frustrated by what I perceived to be a new set of dictums, a new set of constraints, a new set of "shoulds" for women. . . .  The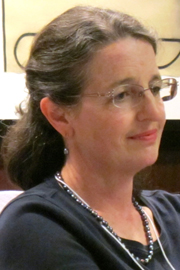 feminist movement allowed women to climb the proverbial ladder side by side with men; this was good. But there was no apparent consideration that maybe what was at the top, wasn't worth the climb; that there was something tarnished about achievement at the top if it depended on others remaining at the bottom; or that perhaps no one should be on a ladder to begin with. I recoiled at feminists' call for equal pay as they hired nannies and "cleaning ladies" at a fraction of the salaries they themselves earned. The result of this new feminist code was that many women that made traditional choices—as I did when I married at 21 and later spent a decade at home with my children—felt inadequate, defensive, marginalized, and invisible. This dismissal, especially coming from other women, was very painful.
I felt confident though about my choices. I had defied the "shoulds" of my generation. I had the support of my very strong mother and my very strong sisters, and because my decisions were passionate and compelling choices of the heart, I knew that I also had the support of my very strong great-grandmother, Kate Chopin. Annette Chopin Lare's comments begin on page 6 of the PDF.

Thomas Bonner, Jr.:
As a freshman in 1956 at Jesuit High School in New Orleans, I was taking an appreciation of literature course. On one occasion I was reading "Désirée's Baby" when I had—what I would not have described then as—an epiphany. Public accommodation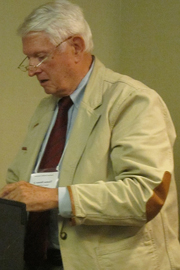 laws in the Civil Rights legislation had not passed yet, and I was aboard a racially segregated streetcar sitting in front of a small wooden sign, reading "For Colored Only," which would move to the front or back depending on the racial population. It was a seating situation that I had grown up with and with which I then had few questions. The Chopin story as all here know has a Maupassant-like ironic denouement—in my vocabulary then, a surprise ending. When I concluded reading it, I was shocked at the racial elements of the story and excited by it as well. It was as if I had been in public scanning a Playboy and had been observed by an adult. I recall looking around the streetcar, for like most teenagers I figured everyone was observing that I had done something socially or morally risky. Of course, all the riders were involved in their own lives, completely unaware of me.
In looking about the streetcar furtively, I was suddenly struck that people in front of the Jim Crow sign were often darker than those behind it. For a moment and subsequently for a short while, the situation of color distinctions and seating locations raised questions, but like most fourteen year olds, I was soon back to my own adolescent world of high school life.  Thomas Bonner, Jr.'s comments begin on page 8 of the PDF.
Barbara C. Ewell:
While I can only begin to count the ways that I have relished and learned from Kate Chopin's work, a more recent—and in some ways, more personal—connection has been our shared experience of storms: Hurricane Katrina in 2005 for me, and for her, the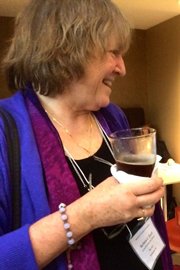 Great Storm of 1893—a storm that devastated Grand Isle and obliterated Cheniere Caminada, taking nearly 2000 lives. Emily was perhaps the first to recognize the impact of this hurricane on Chopin's fiction. Indeed, the storm was national news, and within days, relief efforts were being organized in many cities, including St. Louis. Just a few weeks later, on October 21, Kate Chopin, evidently quite moved by the loss of these places that she had known well and fondly, composed a short story, "At Cheniere Caminada," her only other work set on the Gulf Coast.
The tale introduces several characters that later reappear in The Awakening—Tonie and Madame Antoine, Robert and the LeBrun pension, suggesting that Chopin might already have been pondering Edna's story of love and loss. Looking more closely at the chronology, Pam Menke . . . and I noticed how the novel's internal evidence (particularly the February 1892 founding of the New Orleans Folk-lore Society) establishes the novel's temporal frame. Edna's awakening begins on Grand Isle in the late summer (her Sunday trip to Cheniere Caminada with Robert takes place on August 28: "Didn't you know this was the twenty-eighth of August?) and ends on the solitary beach of Grand Isle in the early spring of 1893, barely six months before the Gulf had actually swept away all those places where she and Robert had briefly dreamed of "wild, impossible things"—"the waves and the white beach of Grand Isle; the quiet, grassy street of the Cheniere Caminada; the old sunny fort at Grande Terre." Barbara C. Ewell's comments begin on page 10 of the PDF.
Emily Toth:
Kate Chopin has accompanied me at every stage of my life. She's always told me, "Don't trim your ambitions."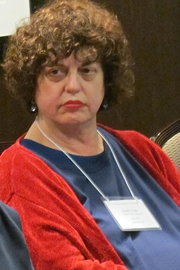 When I was looking for my first academic job, she encouraged me to apply in Louisiana—someplace I'd never been. I fell in love with Louisiana, as she did, and I stayed.
She also indulged my love of secrets. Even as a teen, Kate O'Flaherty had figured out how to make herself popular (You act interested no matter what. You look into people's eyes and ask, "What did you think?"And, she said, you would be reported as being one of the most intelligent people they had ever met). As a young wife and mom, she did imitations of animals, birds, and priests, and her husband egged her on. After his death, she had a merry widow-ish kind of fling—something that's turned out to be very popular among women I know.
Writing about her life put me in touch with a whole cadre of widows in Cloutierville, Louisiana, the small town where she lived, who told me many things my mother didn't teach me. I'm grateful to them every day. Emily Toth's comments begin on page 12 of the PDF.
Questions and Answers begin on page 13 of the PDF.