Kate Chopin Panel in Dublin
By the Editors of KateChopin.org
The Royal Irish Academy in Dublin, Ireland, hosted the Transatlantic Women 3: Women of the Green Atlantic conference on 21–22 June 2018. The conference, organized by the Catharine Maria Sedgwick Society, dealt with "nineteenth-century women who crossed the Green Atlantic, wrote about it, or in other ways connected the United States with Ireland through networks, translations, transatlantic fame, or influence" (Transatlantic Women 3: Women of the Green Atlantic CFP).
The Kate Chopin International Society sponsored a plenary session at the conference organized by Bonnie Shaker (Kent State University at Geauga), associate editor of KateChopin.org. Panelists included Kathleen Butterly Nigro (University of Missouri – St. Louis), KCIS advisory board member and short story editor; Sarah Nestor (Kent State University at Geauga); and Shaker. The session's CFP and panelists' abstracts are listed below.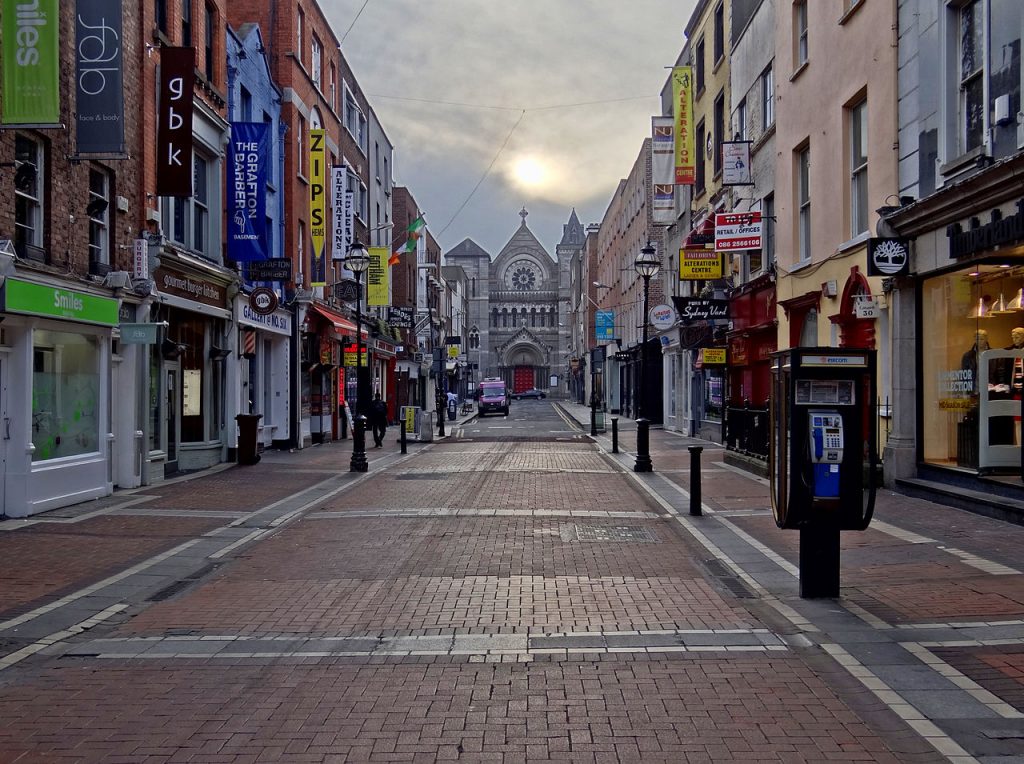 Catherine O'Flaherty Chopin's Irish Eyes: History, Biography, Fiction A Panel Sponsored by the Kate Chopin International Society
Chair, Bonnie Shaker, Associate Editor, KCIS Website
Before we knew her as Kate Chopin, the author of The Awakening was christened Catherine O'Flaherty by her parents, Eliza Faris and Thomas O'Flaherty, the latter of whom emigrated to America from County Galway, Ireland. Given that O'Flaherty died when Chopin was very young, that Chopin was raised by maternal relatives of French descent, that she grew up in a city originally part of the Louisiana territory and named after a French king canonized as a Catholic saint, and that she married into a French family, much of Chopin scholarship has focused on French and French-American influences in her life and fiction. However, around the time Chopin was born in 1850, nearly 10,000 Irish emigrated to St. Louis in yet a second wave of nineteenth-century Irish immigration to America. The neighborhood of Kerry Patch developed to the city's north, and parish churches such as St. Patrick's, St. Bridget of Erin, and St. Lawrence O'Toole served a growing Irish population.
In keeping with the Transatlantic Women 3 conference theme, this panel included papers that considered "Irish/American crosscurrents of the long nineteenth century" that might have influenced Chopin's view of the world. They engage the question: How might we theorize the degree to which Ireland's legacy— both in Europe and America—influenced the fiction Chopin bequeathed to us?
Panelist 1: Kathleen Nigro, University of Missouri-St. Louis
"Excavating Katie O'Flaherty: Speculations on Kate Chopin's St. Louis Irish Influence"
Kate Chopin is generally regarded as a "local color" writer, accurately and perceptively portraying the Creole culture she joined after marrying her husband, Oscar. One of her critics, Lynda S. Boren, maintains that this outsider-within perspective gave Chopin the "aesthetic distance" she needed to critique that society and suggested that imagining the influence of Chopin's Irish heritage as "tempting." However, Chopin's personal biography is more than "tempting": the backdrop of Irish history in St. Louis supports the idea that Chopin would distance herself for another reason. Her father, a Galway immigrant, died when Kate was five years old, leaving her upbringing to the women on her mother's side, all of whom were of French heritage, an ethnicity much more highly esteemed in St. Louis at the time. Moreover, the Nativist Riot of August 7, 1854, in which ten people were killed, pitted the elite of the city against the Irish immigrants attempting to vote. In this paper, using primary documents chronicling the period, visual geographic images, and analysis of Chopin's Irish story, "A Vocation and a Voice," I question whether her father's death a year after the riot altered her personal perceptions about the Irish and subtly influenced the trajectory of her later writing.
Panelist 2: Bonnie Shaker, Kent State University at Geauga
"Transatlantic Possibilities for Understanding Irish-American Identities in Three Kate Chopin Short Stories"
What does it mean to be Irish-American in Kate Chopin's short fiction? What purposes might these fictional identities (have) serve(d) in America's public writing beyond Chopin's Realist/regionalist aesthetic treatment of them? As a writer known for depictions of Louisiana Creoles and 'Cadians [sic] in her fiction, Chopin also portrayed Irish-Americans in her short stories, sometimes setting characters in her home state of Missouri. This presentation explores Transatlantic Studies' usefulness for understanding Irish-American identities in three of Chopin's short stories, published in contemporaneous mass media with the titles: "Miss McEnders. An Episode," "Polly's Opportunity," and "Her First Party." Drawing from Ignatiev and Roediger's foundational work on class and whiteness, newer work on the Black and Green Atlantic, and Missouri historical records, this presentation considers how Chopin's fiction might have participated in making sense of the "symbolic and imaginary geographies" (Jackson et al. 2004) that have informed what has been for centuries a transatlantic world.
Panelist 3: Sarah Nestor, Kent State University at Geauga
"A True (Irish) Woman: Irish American Feminism in Kate Chopin's Fiction"
As Irish immigrants coalesced throughout the United States during the nineteenth and early twentieth centuries, community leaders were interested in creating and defining images of Irish identity. Instrumental to these ideals was gender and the notion that men's and women's social roles needed to be defined amidst the culture changes that were occurring, particularly in response to women's changing roles and increasing opportunities for independence through educational and workplace opportunities. Amidst the evolving cultural and ethnic dimensions of the nineteenth century, Kate (O'Flaherty) Chopin was born to an Irish immigrant father and a mother of French descent in St. Louis, MO in 1850. Raised as a Roman Catholic, Chopin inhabited an environment of ethnic dualisms as she was influenced by her Irish and French heritages, as well as her American nationality. Formed through these ethnic dualisms and religious ideals, Chopin ultimately challenged Irish-Catholic ideals of femininity in her fiction. Chopin subverted the image of "true men" and women that Catholic and Irish writers and clergy, such as Father Bernard O'Reilly, sought to "define and promote" throughout much of the nineteenth century (Mcdannell 19). Chopin consequently engages with—and reimagines—the Irish American experience within the distinct geography of the United States, thereby challenging the assumed and rigid ethnic values and identities that the Catholic Church and Irish American leaders were proliferating. While, as Shuan O'Connell notes, the primary traits of Irish-Americanism have traditionally been "Catholicism, Democratic party politics, [and] the cultural values of the parish" (254), these are not the only ways in which Irish-Americans engage with their ethnic identity. Chopin connects with her Irish identity through her engagement with women's issues, her depictions of women who challenged contemporary ideals of femininity, and her representations of class and ethnicity. These connections ultimately join Chopin to an Irish American feminist literary tradition in which she rejected the gendered ideals of Irish Catholic identity in order to represent "true" women.