"Lilacs" is Kate Chopin's short story about a Parisian performer who seeks respite from her city life by retreating each spring to the convent where she lived as a girl.
By the Editors of KateChopin.org
Read the story online
Characters
Time and place
Themes
When the story was written and published
Questions and answers
Accurate texts
Recent articles about the story
Books that discuss Kate Chopin's short stories
Kate Chopin's "Lilacs" online and in print
You can read the story online, although if you're citing a passage for research purposes, you should check your citation against one of the accurate texts listed below.
In print you can find "Lilacs"in The Complete Works of Kate Chopin, in the Penguin Classics edition of Chopin's A Vocation and a Voice, and in the Library of America Kate Chopin volume, as well as in other paperback and hardcover books. For publication information about these books, see the section "For students and scholars" near the bottom of this page.
"Lilacs" characters
Adrienne Farival: actor in Paris
Sister Agathe: loving friend from Adrienne's youth in the convent
Sister Marceline and Sister Marie Anne: also friends from the convent
The Mother Superior of the convent
Old Philippe: groundskeeper at the convent
Sophie: Adrienne's servant in Paris
Rosalie: neighbor of Adrienne's in Paris

"Lilacs" time and place
The story takes place at a convent in France and in the chambers of Adrienne Farival in Paris, apparently in the 1880s or early 1890s.
"Lilacs" themes
This story, as we explain in the questions and answers below, has raised questions about why Kate Chopin turned away from her usual focus on Louisiana for the setting of the work and where she found inspiration for the character Adrienne Farival. Critics have written about lesbian motifs in the story and readers have wondered why Chopin did not include the work in her short story collection A Night in Acadie.
You can read about finding themes in Kate Chopin's stories and novels on the Themes page of this site.
When Kate Chopin's "Lilacs" was written and published
The story was written between May 14 and May 16, 1894, and published in the New Orleans Times-Democrat on December 20, 1896.
You can find out when Kate Chopin wrote each of her short stories and when and where each was first published.
Questions and answers about "Lilacs"
Q: I was wondering if you could explain the reason for lilacs in this story. Is it flowers of any kind that are important for Adrienne, or must they be lilacs?
A:  Adrienne tells her friend in the convent "Always shall I remember that morning as I walked along the boulevard with a heaviness of heart—oh, a heaviness which I hate to recall. Suddenly there was wafted to me the sweet odor of lilac blossoms. A young girl had passed me by, carrying a great bunch of them. . . .  The scent of the lilacs at once changed the whole current of my thoughts and my despondency. . . . I was standing here with my feet sunk in the green sward as they are now. I could see the sunlight glancing from that old white stone wall, could hear the notes of birds, just as we hear them now, and the humming of insects in the air. And through all I could see and could smell the lilac blossoms, nodding invitingly to me from their thick-leaved branches."
The scent of the lilacs on the streets of Paris brings back childhood memories for the adult Adrienne—memories of springtime during her youth when she lived in the convent. So the flowers need to be ones that blossom in the spring and that send out an unmistakable odor. Chrysanthemums—flowers that in most countries bloom only in late summer or autumn—or many other flowers would not work for what Kate Chopin is suggesting with lilacs.
Q: It's strange to read a Kate Chopin story set in France, rather than in Louisiana. What prompted Chopin to turn to France and nuns and a performer rather than stay focused on the Creoles and Acadians she usually writes about?
A: Kate Chopin spoke French throughout her life and visited Paris on her honeymoon. She studied with the sisters of the St. Louis Academy of the Sacred Heart when she was a child. Her lifelong friend Kitty Garesché entered the Sacred Heart Convent. And Chopin loved the theatre and opera. Bernard Koloski argues that she had in mind the great French actor Sarah Bernhardt (1844–1923) as she wrote this story. Bernhardt made many tours of the United States and liked to perform for French-speaking audiences in St. Louis, where Kate Chopin lived when she wrote her fiction, and New Orleans.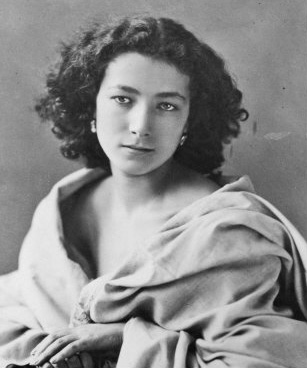 Sarah Bernhardt, photographed by Nadar when she was about twenty.
Q: I don't understand: Why is Adrienne banned from the convent?
A: There are other elements in the story, but one straightforward explanation is that she is denied entrance to the convent because someone has revealed that Adrienne lives a wild, scandalous life, a life of "picturesque disorder," as a singer and dancer in Paris. She is not the "older and wiser" widowed woman with "household duties" that the nuns had thought she is. It is hinted in the last paragraphs of the story that Adrienne will try to find out who told the nuns this, who is responsible for "this treacherous turn."
Some critics, however, have argued that Adrienne is banned from the convent because the mother superior is unhappy with Sister Agathe's affection for her. Note Jacqueline Olson Padgett's article in the publication list below.
Q: It seems to me there are lesbian motifs in this story and other Chopin works. Do critics write about that?
A: Some critics do. Some look at the relationship between Adrienne Farival and Sister Agathe. Christina G. Bucher has discussed at length Chopin's short story "Fedora." Other critics have discussed "Charlie" in the story of that name and Mademoiselle Reisz in The Awakening as lesbian characters.
Q: Did Kate Chopin not include "Lilacs" in her short story collection A Night in Acadie, even though she wrote it at about the same time as the stories in that collection, because it's not set in Louisiana or because it didn't fit thematically with the other stories?
A: Probably because it's not set in Louisiana. Some of the story's themes and motifs are similar to those in Chopin's Louisiana works—a woman being pulled in different directions, yearning for both individual freedom and the comfort of community, feeling tension between living "in the world," as Sister Agathe in the story (and Lucilla Worthington in Chopin's novel At Fault) phrases it, and retreating from the world. Chopin had planned to include "Lilacs" in A Vocation and a Voice, her third collection of stories, but the publisher cancelled the contract for the book, and it did not appear as a separate volume until 1991, long after Chopin's death.
You can read more questions and answers about Kate Chopin and her work, and you can contact us with us your questions.
For students and scholars
Accurate texts of "Lilacs"
The Complete Works of Kate Chopin. Edited by Per Seyersted. Baton Rouge: Louisiana State University Press, 1969, 2006.
A Vocation and a Voice. Edited by Emily Toth. New York: Penguin, 1991.
Kate Chopin: Complete Novels and Stories. Edited by Sandra Gilbert. New York: Library of America, 2002.
Recent articles about "Lilacs"
Some of the articles listed here may be available on line through university or public libraries.
Utsu, Mariko. "Lesbian and Heterosexual Duality in Kate Chopin's 'Lilacs.'" Mississippi Quarterly 63 (2010).
Pierse, Mary S. "Paris as 'Other': George Moore, Kate Chopin and French Literary Escape Routes." ABEI Journal: The Brazilian Journal of Irish Studies 8 (2006): 79-87.
Despain, Max and Thomas Bonner, Jr. "Shoulder to Wings: The Provenance of Winged Imagery from Kate Chopin's Juvenilia Through The Awakening." Xavier Review 25.2 (2005): 49-64.
Crosland, Andrew. "Kate Chopin's 'Lilacs' and the Myth of Persephone." ANQ: A Quarterly Journal of Short Articles, Notes, and Reviews 14 (2001): 31-34.
Padgett, Jacqueline Olson. "Kate Chopin and the Literature of the Annunciation, with a Reading of 'Lilacs'." Louisiana Literature 11 (1994): 97-107. Also see this article by Jacqueline Olson Padgett.
Selected books that discuss Chopin's short stories
Koloski, Bernard, ed. Awakenings: The Story of the Kate Chopin Revival Baton Rouge: Louisiana State University Press, 2009.
Beer, Janet. The Cambridge Companion to Kate Chopin Cambridge, England: Cambridge UP, 2008.
Ostman, Heather. Kate Chopin in the Twenty-First Century: New Critical Essays Newcastle upon Tyne, England: Cambridge Scholars, 2008.
Arima, Hiroko. Beyond and Alone!: The Theme of Isolation in Selected Short Fiction of Kate Chopin, Katherine Anne Porter, and Eudora Welty Lanham, MD: UP of America, 2006.
Beer, Janet. Kate Chopin, Edith Wharton and Charlotte Perkins Gilman: Studies in Short Fiction New York: Palgrave Macmillan, 2005.
Stein, Allen F. Women and Autonomy in Kate Chopin's Short Fiction New York: Peter Lang, 2005.
Shaker, Bonnie James. Coloring Locals: Racial Formation in Kate Chopin's Youth's Companion Stories. U of Iowa P, 2003.
Walker, Nancy A. Kate Chopin: A Literary Life Basingstoke, England: Palgrave, 2001.
Toth, Emily. Unveiling Kate Chopin Jackson: UP of Mississippi, 1999.
Koloski, Bernard. Kate Chopin: A Study of the Short Fiction New York: Twayne, 1996.
Petry, Alice Hall (ed.), Critical Essays on Kate Chopin New York: G. K. Hall, 1996.
Elfenbein, Anna Shannon. Women on the Color Line: Evolving Stereotypes and the Writings of George Washington Cable, Grace King, Kate Chopin Charlottesville: UP of Virginia, 1994.
Boren, Lynda S. and Sara deSaussure Davis (eds.), Kate Chopin Reconsidered: Beyond the Bayou Baton Rouge: Louisiana State UP, 1992.
Perspectives on KateChopin: Proceedings from the Kate Chopin International Conference, April 6, 7, 8, 1989 Natchitoches, LA: Northwestern State UP, 1992.
Toth, Emily. "Introduction" A Vocation and a Voice New York: Penguin, 1991.
Papke, Mary E. Verging on the Abyss: The Social Fiction of Kate Chopin and Edith Wharton New York: Greenwood, 1990.
Toth, Emily. Kate Chopin. New York: Morrow, 1990.
Elfenbein , Anna Shannon. Women on the Color Line: Evolving Stereotypes and the Writings of George Washington Cable, Grace King, Kate Chopin Charlottesville: UP of Virginia, 1989.
Taylor, Helen. Gender, Race, and Region in the Writings of Grace King, Ruth McEnery Stuart, and Kate Chopin Baton Rouge: Louisiana State UP, 1989.
Bonner, Thomas Jr., The Kate Chopin Companion New York: Greenwood, 1988.
Bloom, Harold (ed.), Kate Chopin New York: Chelsea, 1987.
Ewell, Barbara C. Kate Chopin New York: Ungar, 1986.
Skaggs, Peggy. Kate Chopin Boston: Twayne, 1985.
Seyersted, Per. Kate Chopin: A Critical Biography Baton Rouge: Louisiana State UP, 1969.
Rankin, Daniel, Kate Chopin and Her Creole Stories Philadelphia: U of Pennsylvania P, 1932.